The Family is moving to the Internet Nation!
Or how COVID-19 taught us how to operate remotely.
If you're receiving this email, it's because we are in contact for business. As we're switching to being fully remote, I'm going to send a monthly email to keep the people we love up to date. If you don't want to hear from me, just unsubscribe.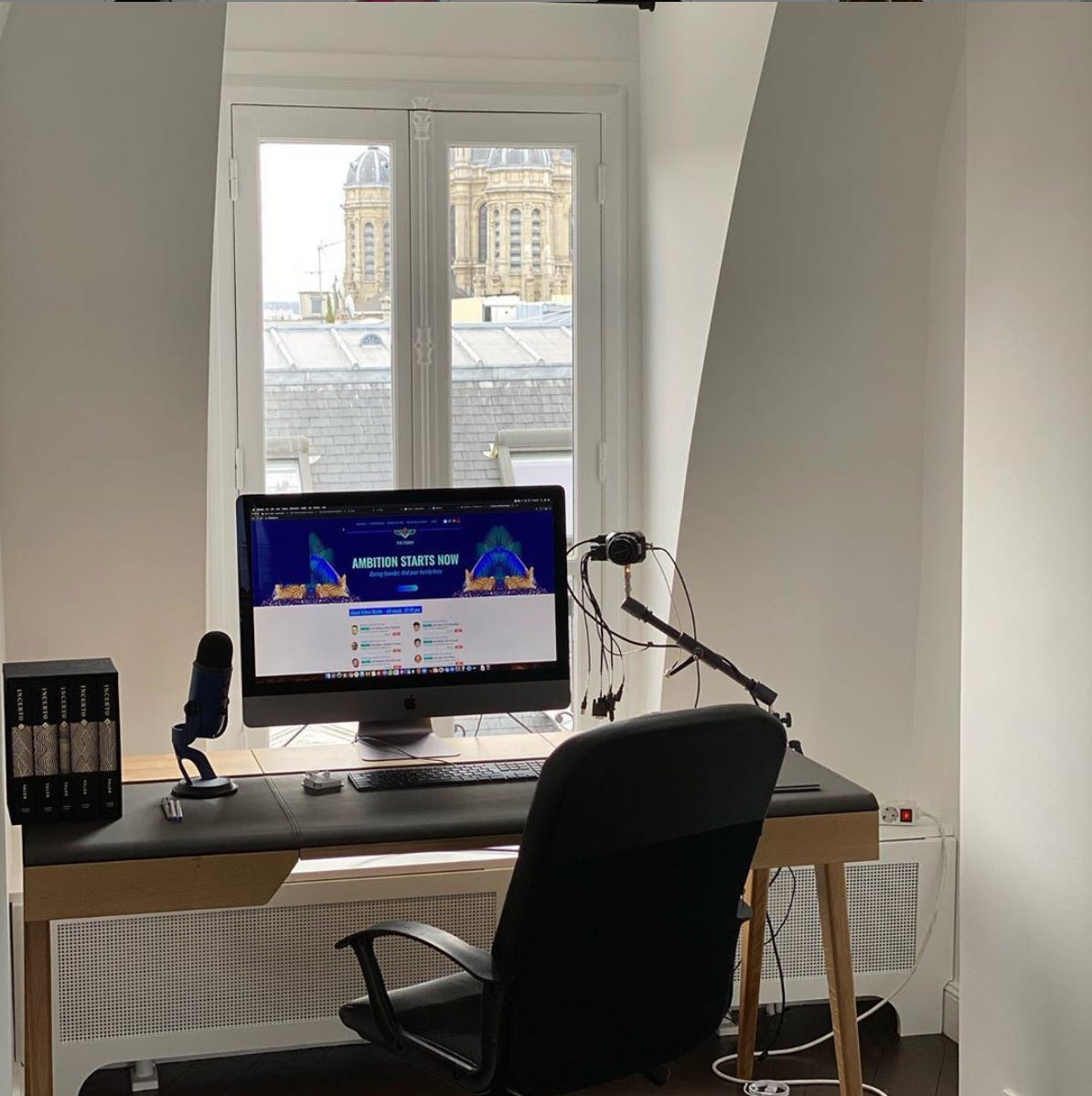 "You know, I'm looking at what's happening in China… I wouldn't be surprised if we get a full lockdown in Europe, too."
"Not on your life. Are you serious? We're French, it'd never get through."
"Hmmm…"
That was how one of my closest advisers ended our monthly call. With a lot of exposure to Asia, he wasn't mincing words when it came to COVID-19.
Here in Europe, at the time it wasn't a big thing — "just a bad flu". But he created that sense of doubt.
I started thinking, "What happens if there is a lockdown?" Well,
We lose all ability to raise any funds for 3–6 months, minimum.

We won't generate any revenues through our 3 offices, which will be empty and a giant cost center.

We won't have any revenues from events or sponsors; after all, we sell them magical moments based around face-to-face interactions.

We're going to see that all our BFFs — the businesses where The Family is a majority shareholder — have the same risk: they're selling physical goods and personal interactions.
At the time, it was just theory. But in a little corner of my brain, I'd been dreaming about how The Family could be 100% online for a long time.
Then the crisis arrived. And it was even more violent than anybody really expected.
In the first phase, which didn't last too long, it was about trying to stand up to the tsunami. It was clear that it was useless, but everybody tried. It's just human nature.
Then the supposed miracles begin falling from the sky: partial activity, loans guaranteed by the state… promises about a world that would get back to normal. But I don't think the world is ever going back to normal. That world is gone. COVID-19 is a trauma that we're going to keep living with, like it or not.
So it's up to us whether that coming life is something better or something worse.
At The Family, we decided it would be better:
We launched our crisis website;

We totally changed how we governed ourselves, shifting for more collegiality and tighter bonds;

We hunted down all our fixed costs and we had a number of employees leave for new horizons. Some of them are reaching for those horizons with our help, others are out on their own;

We began running events online, making deals online;

We started to see how working remotely, far from being a death sentence, could be a business opportunity that doesn't come along very often.
It all happened very quickly. We're still at the beginning of this blank page, and I'm happy to not be trying to save things just because we look at them and say, "Well, we put a lot of energy into building them!"
Successfully restructuring (with the needed mental shift) quickly let us also get back to bringing more startups into our portfolio, in a world where everyone — even YC — is having to work remotely. And so this new context lets us support businesses that aren't just French, aren't just European, but that come from anywhere in the world. I recently onboarded our first US startup and we're going to push hard to move further into the American market thanks to our network and know-how.
Because with 500 Startups, YC, Techstars headed to remote, it means the US market isn't winner-take-all anymore, but just a competition where everyone can go and grab their part of the market.
I think what the press missed when they talked about this decision is that, yes, one of our business units that financed our core team got hit. Badly. But that's not to say that it would have been impossible to save it. It's just that the energy we'd have used up to save it is much better used in building something radically different. I don't want to pile up debt on our assets, and we definitely don't need it: operating The Family online is so much easier. 
Plus, in a world that's only getting more uncertain, more difficult, everyone needs a family — a family that's optimistic, solid, and full of good vibes.
This new version of The Family will keep searching for opportunities, but now with a much more global view.
This is still the beginning. And I'm excited for you to discover — again, and again, and again — an ever-changing The Family.
Oussama
PS: Chaos only serves those who create new things, and I'm proud of what we've created lately:
We made a video game, which went up to #1 on the App Store thanks to an incredible team;

Nicolas has started an executive sparring practice for execs trying to bring their companies into the Entrepreneurial Age; it's a great addition to the knowledge he puts out through his newsletter European Straits;

We helped all the startups in our portfolio to restructure as quickly as possible;

We assisted in the financial restructuring of a farmhouse in Normandy that can serve for future team retreats;

We sold face masks, with all their formats and complexities;

We created new studio-style businesses using an equity deal inspired by eFounders (an excellent way to never be bored while on lockdown);

I started an exclusive coaching program for business leaders in more traditional industries, people who need to bring their companies into the digital world fast and think like a startup in order to stay alive in this new world. Digital isn't just a gadget anymore, something you can do later — it's a matter of survival.

We've given talks remotely around the world: Colombia, Switzerland, Russia, Spain; with all kinds of communities: students, women, engineers, scientists. (And there are many more to come).